Wanaka Doggy Daycare
Where dogs can be dogs
Doggy Daycare
Let your dogs play and socialise with others for the whole day at Big Dogs daycare in Wanaka. There's plenty of space for them to run rings around each other, or laze in the afternoon sun.
Where Dogs can be Dogs
Big Dogs is not like other dog boarding kennels, in fact, we're not a kennel at all! Big Dogs offers a different kind of care, one where the members of your furry family are free to be themselves.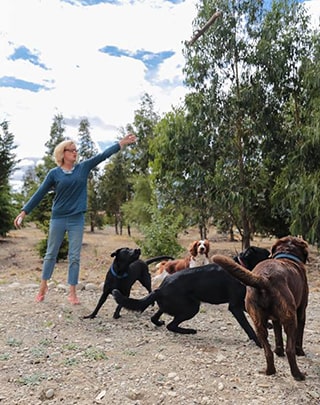 Stories from our "Guests"
Big Dogs has a number of regulars, from Labs and Border Collies to Vizslas and Retrievers. Read about their dog sitting experiences, and overnight stays at Big Dogs.
We've used Big Dogs on a number of occasions in the last year and now as we pull into the driveway my dog Rua shows immediately her excitement of being back to see Nancy, Ned and her doggy friends.
Going away has become a whole lot less of a worry knowing that Rua will be spoilt with attention and playtime with other dogs.
In fact she enjoys a holiday too, by the river with tonnes of space and regular swims. She comes home very happy and very tired! I think you should change your name to Big Happy Dogs.
Thanks for looking after her so well.
Jackie & Rua
Our dog Frankie loves Big Dogs and being with his mate Ned. Although he comes back quite exhausted after all the exercise he is a very happy dog. We have no hesitation in recommending Big Dogs.
Gary & Fran Tate